Response Solution of Appearance Part
Accuratestamping response simulation of aluminum alloy parts. Advanced surface deformation to achieve CLASS A surfaces response compensation processing. Effective prediction of the responsestate of each process.Improvemold development level, reduce mold development costs.
Background and status
• New energy and light weight promote the development of new materials and new technologies in automobile manufacturing. As a relatively comprehensive and mature new material, aluminum alloy has been increasing its application rate year by year. In some luxury models, even aluminum car body is applied. However, the inherent characteristics of aluminum alloys lead to the problem that the prediction accuracy is not high, which makes the response compensation means impossible, So the solution that execute now is compensation based on the scan data, it caused the mold development process cost many time and money.
Solution scheme
• The general finite element solver Ls_Dyna is introduced into the stamping die design of aluminum alloy parts to simulate the stamping response. The accuracy of springbacksimulation is affected by many factors. Therefore, in combination with the accurate material parameter experiment of the plate blank, the interference of material parameters is first excluded. The original analysis processuses the MAT37for analysis. The comparison shows that the stamping response trend is similar, but there is a large deviation between the simulation and scan data. So new material model of MAT125, optimization of trimming curve and the modal stability were selected to improve simulation accuracy. After these optimization, the deviation between CAE stl and scan data is lower than +/-1.5mm.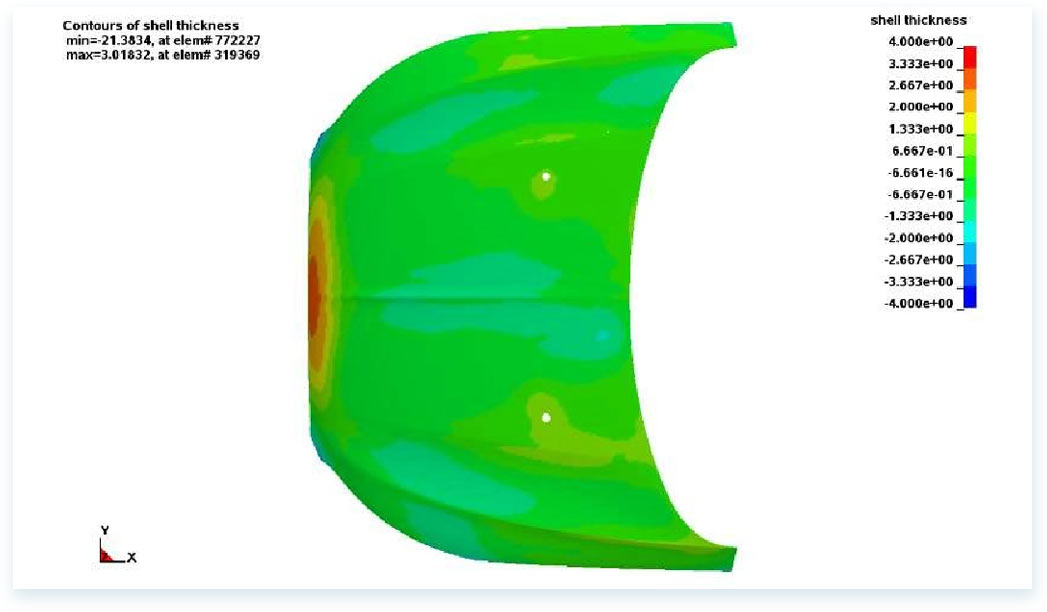 Advantages and features
• Using LS-DYNA to improve the ability to simulate the stamping state of aluminum alloy sheet, and ensure the simulation precision of aluminum alloy appearance parts. The core value points of the solution include:
n Material model, trimming line accuracy, modal and tool body matching have great influence on springback simulation accuracy.
n Using MAT125 for simulation could improve the accurate.
n The accuracy of trimming line has obvious influence on the accuracy of springback analysis.
n Increase Prebending in stamping process to improve simulation accurate.